NEW LINK to SHIP TRACKER click here to try
In April 1938 Whitby received it's new lifeboat little did anyone know that she was to become one of the longest serving lifeboats in the R.N.L.I. fleet.
On 11th April 1938 the new Whitby lifeboat went on service, costing £6,576 it was provided by Mr.W.Hepworth of Hull. The naming ceremony took place on June 27th 1938 she was christened "Mary Ann Hepworth" by the Marchioness of Normanby. A 41ft Watson class fitted with two 35hp petrol engines & sails she was not self righting, nevertheless she was state of the art for her time.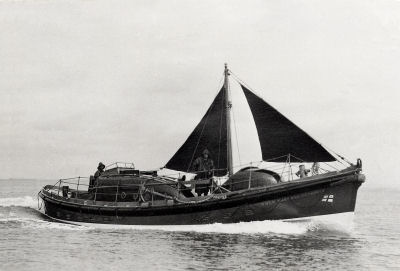 In 1974 after serving 36 years, being launched 372 times and saving 201 lives she was replaced by the Waveney class lifeboat " The White Rose of Yorkshire " .

After being sold by the R.N.L.I. she spent some time on the Broads and the river Trent. In 1988 Barry Snedden who was a crewman on the Whitby lifeboat bought her and brought her back to Whitby. On arrival back "home" Barry put the boat back to near original as possible. After several inspections by the powers that be, permission was given and the necessary licences acquired to do pleasure trips. 1989 saw her back in her original lifeboat colours and giving pleasure trips to sea from Whitby's Swing Bridge. The boat has been seen in episodes of the Yorkshire television series 'Heartbeat', with Adam Hart-Davis also in the TV series 'One Summer in Whitby', and again in 'Island Race' with John McCarthy and Sandy Toksvig.

Today from April to October you will find Barry and his crew waiting by the swing bridge ready to take you for a trip on a piece of Whitby's history.
Come to sea with Barry and his crew and enjoy
the best half hour you will spend in Whitby
View Larger Map
LEAVING EVERY HALF HOUR FROM NEW QUAY ROAD NEAR THE SWING BRIDGE
(OPPOSITE THE DOLPHIN PUBLIC HOUSE)
10 A.M. TILL DUSK THROUGHOUT THE SEASON
We specialise in school and private parties, for prices please contact Barry
You can contact Barry on his mobile 07779318948 
by Snail mail at:- 15,Sandgate, Whitby, YO22 4DB.
Here is the Met Office weather forecast for the next five days
Click to E-Mail for more information
Visit our new photo gallery by clicking here
Thank you for visiting the web site, please bookmark as development is still underway.
Soon to include: TV Appearances, Booking info, Image Galleries.
© Barry Snedden 2006-2014